Good morning! There have been a lot of questions about the Santa Shop that the FBLA is hosting this Friday at the elementary school, so I wanted to try to clear some things up: 1) Kids typically go to this after school with their parents or a sibling either with them or in the hallway waiting for them (it will be open until 6:00 pm). 2) The envelope is so that kids can have money in that envelope when they come to the shop and the helpers know who to assist the kids to shop for (so that parents can be surprised with what their kids get for them). 3) Kids will not be going to this with their classroom. 4) Please do not send $ to school for this. I apologize for any misunderstanding! I realize that we have not done this in several years, and it should have been explained better. Please let me know if you have other questions. Mr. Kean


Our GCMS High School Chamber Choir recently performed at the December Gibson City Chamber of Commerce Luncheon. Be sure to tune in to WCIA at 4:00 today to see them on CILiving!
Several reminders: 1) Today is an 11:30 dismissal. Thanks for picking your kids up on time! 2) There are a lot of illnesses going around. Please keep your kids home if they are sick! 3) Please make sure your kids are bringing winter clothes for recess. Mr. Kean

GCMS Elementary will be hosting dress up days beginning December 12. This list applies to the Elementary School only. Have fun getting into the holiday spirit!

Tonight's 8th Grade Girls Basketball regional championship game will be played at Le Roy Elementary School (805 N. Barnett St.) in LeRoy. Game time is 5:30PM. GO FALCONS!

Tonight MS Boys Basketball games vs. Ridgeview in Colfax will be played in their high school gym. The address is 202 E. Wood St. The first game begins at 5:30. GO FALCONS!

Do you want to compete in college sports? Join the NCAA Eligibility Center on Wednesday, December 14 from 6-7 p.m. Eastern time for a webinar for college-bound student-athletes and your families. The discussion will include review of the most recent COVID-19 automatic waiver relief. We'll also go over requirements you must meet to pursue your dreams of studying and competing at an NCAA Division I, II or III school. Register at
https://on.ncaa.com/Web_12142022

Tonight's Girls Basketball game vs. Flanagan will be varsity game beginning at 5:30 PM followed by JV quarters. We hope to see you there!

Middle School Volleyball will have their parent meeting this Friday 12/2 at 5PM in the MS Cafeteria. Tryout procedures and season info will be provided for all who can attend. Please contact the Middle School if you have any questions.

Tonight's 8th Grade Girls Basketball regional game will be played at Le Roy Elementary School (805 N. Barnett St.) in LeRoy. Game time is 5:30PM. GO FALCONS!

GCMS School District is actively seeking to employ two new members to our custodial and maintenance team! Here are the details: 1. Starting wage is $18.00 per hour 2. Currently second shift 2:30 - 11:00 pm, however the job is first shift in June and July and the employees work 4 days / 10 hrs in the summer to have 3 day weekends. 3. Fully paid individual health, dental, vision, and life insurance 4. Paid Federal Holidays, personal days, sick time, and vacation 5. IMRF retirement benefits once vested (10 years) Great opportunity! If interested contact Rich Doman or Bob Jones at GCMS (217-784-8296), or visit our website at gcmsk12.org, or come by the Unit Office at 307 N. Sangamon Ave. to pick up an application! GCMS is ready to invest in great people who work hard, want to be a part of a great team, and want the great benefits these positions provide.

The 2022 GCMS Turkey Tourney wraps up today with the following games: 1:00 - Tri-Point vs Fisher 2:30 - GCMS vs Armstrong 4:00 - Hoopeston vs Lexington 5:30 - Iroquois West vs Prairie Central Come out and support our Falcons!

Our 7th grade girls are IESA Class 2-A Basketball Regional Champs! They defeated Bement by a score of 25-20. They advance to the Sectional at Champaign St. Matthew, next Wednesday, Nov. 30 at 6:30 PM. We are Falcon Proud!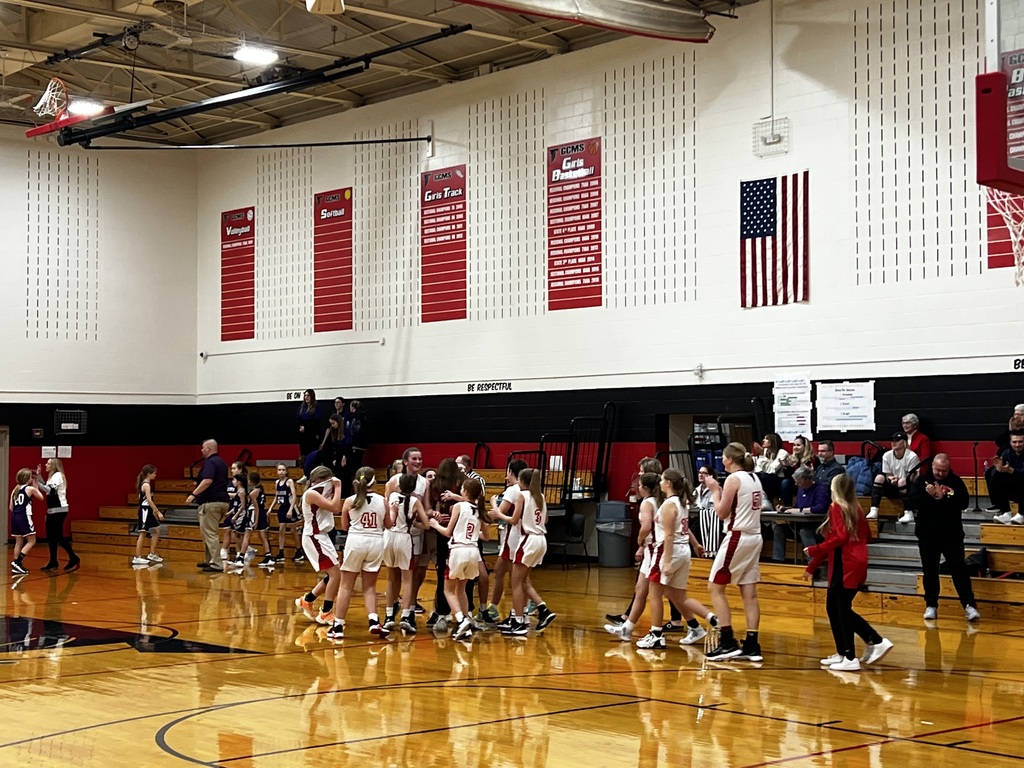 That's a W! Congratulations to our 7th grade girls' team for their Regional Championship, defeating Bement 25-20. Next up, sectionals! #RiseUp!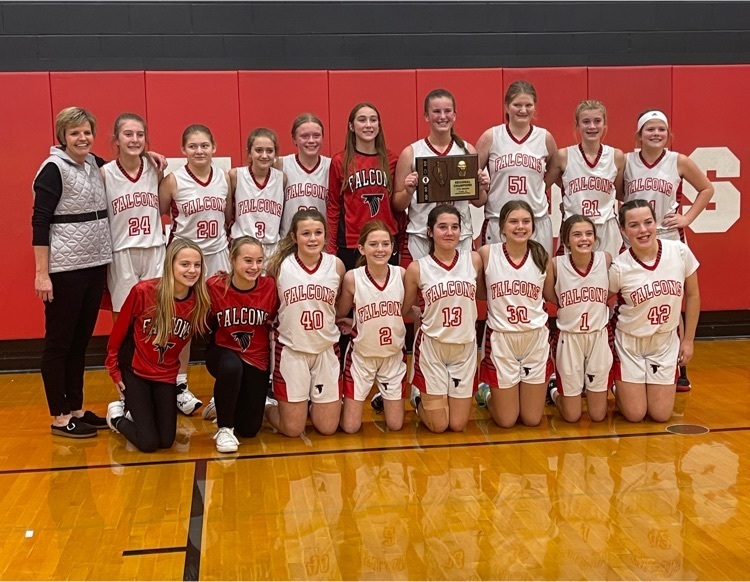 The November 30 School Board Roundtable has been cancelled and rescheduled for Wed, January 25. Community members are invited to join us in January to discuss Board Policy creation, process, and management.

GCMS has multiple positions opening for the 2023-24 school year! Join a team of dedicated professionals in a district with multiple Exemplary rated schools by ISBE. See our full list of openings available at
https://www.gcmsk12.org/page/job-opportunities

GCMS has updated our phone system! Some of the extra extensions are no longer active. When needing to call any of our buildings please use the following: Elementary 217-784-4278 Middle School 217-784-8731 High School 217-784-4292 Unit Office 217-784-8296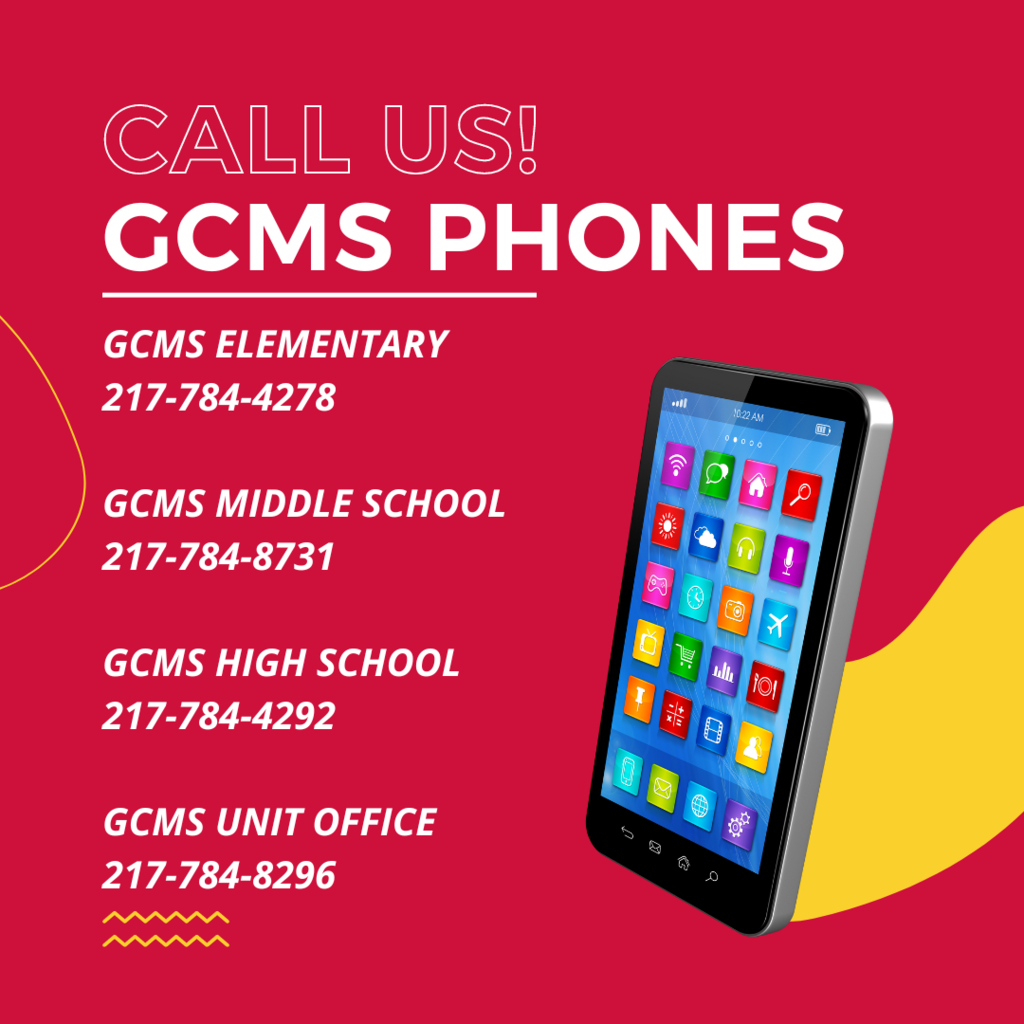 Greetings GCMS Families! The light snow the last few days has certainly reminded us that Illinois winter is near. Please be sure to check your text messages, our live feed on the app and website, and our social media outlets on snow/ice event days for school closures. Here is a reminder of shortened and no school days coming up the next several weeks. Shortened Days: Tuesday, November 22 is a 2:20 dismissal Friday, December 2 is an 11:30 dismissal Tuesday, December 20 is a 2:20 dismissal No School Days: Wednesday, November 23 - Friday, November 25 Wednesday, December 21 - Tuesday, January 3rd Thank you for your attention and cooperation! Stay warm and safe in winter travels. Sincerely, Mr. Darnell

GCMS Elementary will host their Christmas music program on Thursday, Dec 15 at the GCMS High School Gym. PreK-2nd grade begins at 6:00pm, grades 3-5 begin at 7:00pm. We look forward to seeing you!