The 2022 GCMS Turkey Tourney wraps up today with the following games: 1:00 - Tri-Point vs Fisher 2:30 - GCMS vs Armstrong 4:00 - Hoopeston vs Lexington 5:30 - Iroquois West vs Prairie Central Come out and support our Falcons!

Our 7th grade girls are IESA Class 2-A Basketball Regional Champs! They defeated Bement by a score of 25-20. They advance to the Sectional at Champaign St. Matthew, next Wednesday, Nov. 30 at 6:30 PM. We are Falcon Proud!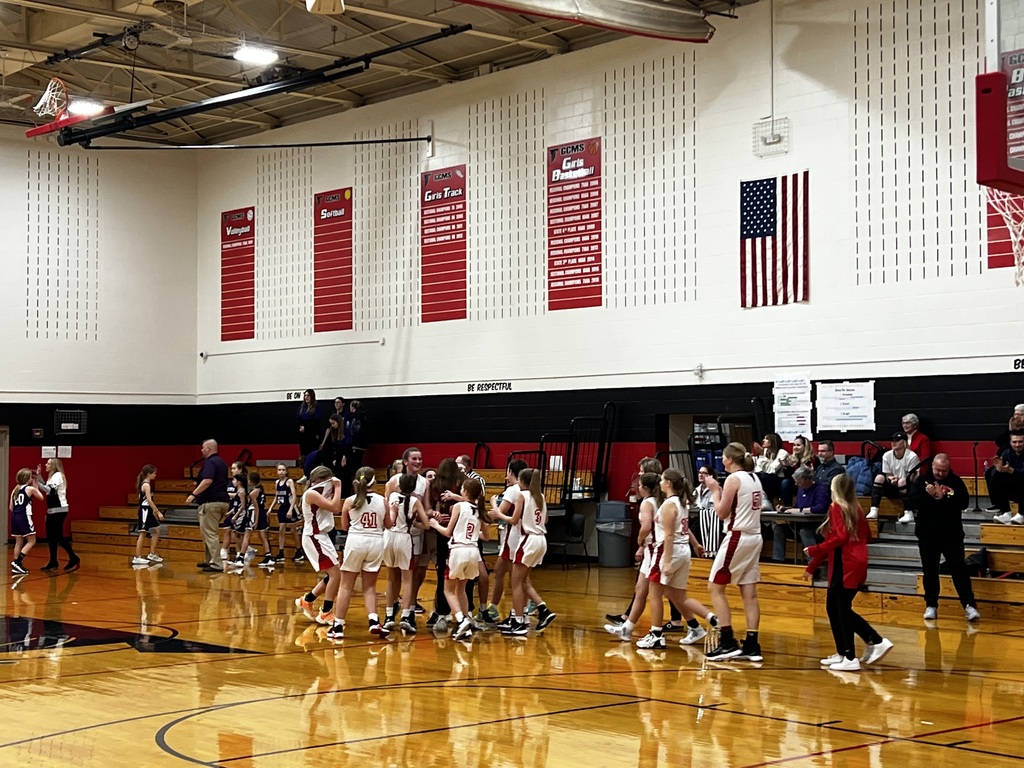 That's a W! Congratulations to our 7th grade girls' team for their Regional Championship, defeating Bement 25-20. Next up, sectionals! #RiseUp!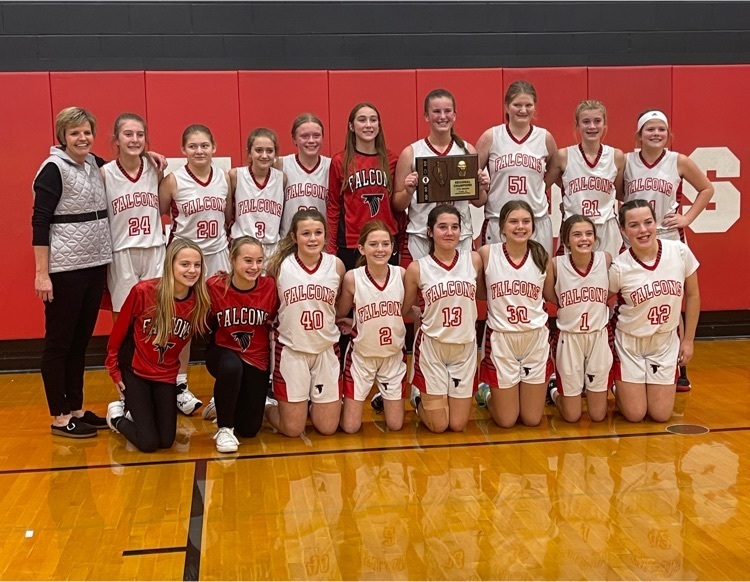 The November 30 School Board Roundtable has been cancelled and rescheduled for Wed, January 25. Community members are invited to join us in January to discuss Board Policy creation, process, and management.

GCMS has multiple positions opening for the 2023-24 school year! Join a team of dedicated professionals in a district with multiple Exemplary rated schools by ISBE. See our full list of openings available at
https://www.gcmsk12.org/page/job-opportunities

GCMS has updated our phone system! Some of the extra extensions are no longer active. When needing to call any of our buildings please use the following: Elementary 217-784-4278 Middle School 217-784-8731 High School 217-784-4292 Unit Office 217-784-8296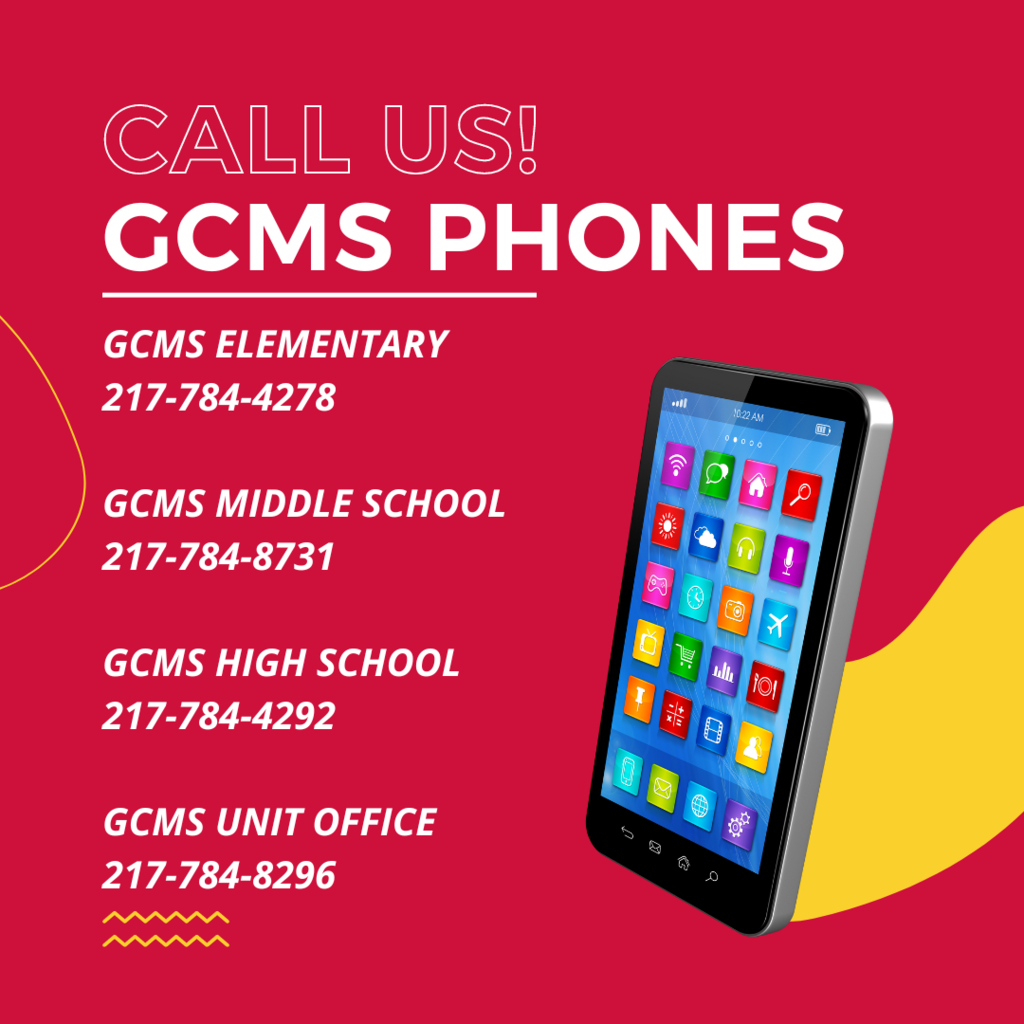 Greetings GCMS Families! The light snow the last few days has certainly reminded us that Illinois winter is near. Please be sure to check your text messages, our live feed on the app and website, and our social media outlets on snow/ice event days for school closures. Here is a reminder of shortened and no school days coming up the next several weeks. Shortened Days: Tuesday, November 22 is a 2:20 dismissal Friday, December 2 is an 11:30 dismissal Tuesday, December 20 is a 2:20 dismissal No School Days: Wednesday, November 23 - Friday, November 25 Wednesday, December 21 - Tuesday, January 3rd Thank you for your attention and cooperation! Stay warm and safe in winter travels. Sincerely, Mr. Darnell

GCMS Elementary will host their Christmas music program on Thursday, Dec 15 at the GCMS High School Gym. PreK-2nd grade begins at 6:00pm, grades 3-5 begin at 7:00pm. We look forward to seeing you!

We can't wait to see everyone at the girls basketball game tonight! We are having a bake sale, silent auction, and 50/50 raffle to raise money for the Fields family. The 7th grade game starts at 5:30 with 8th grade to follow!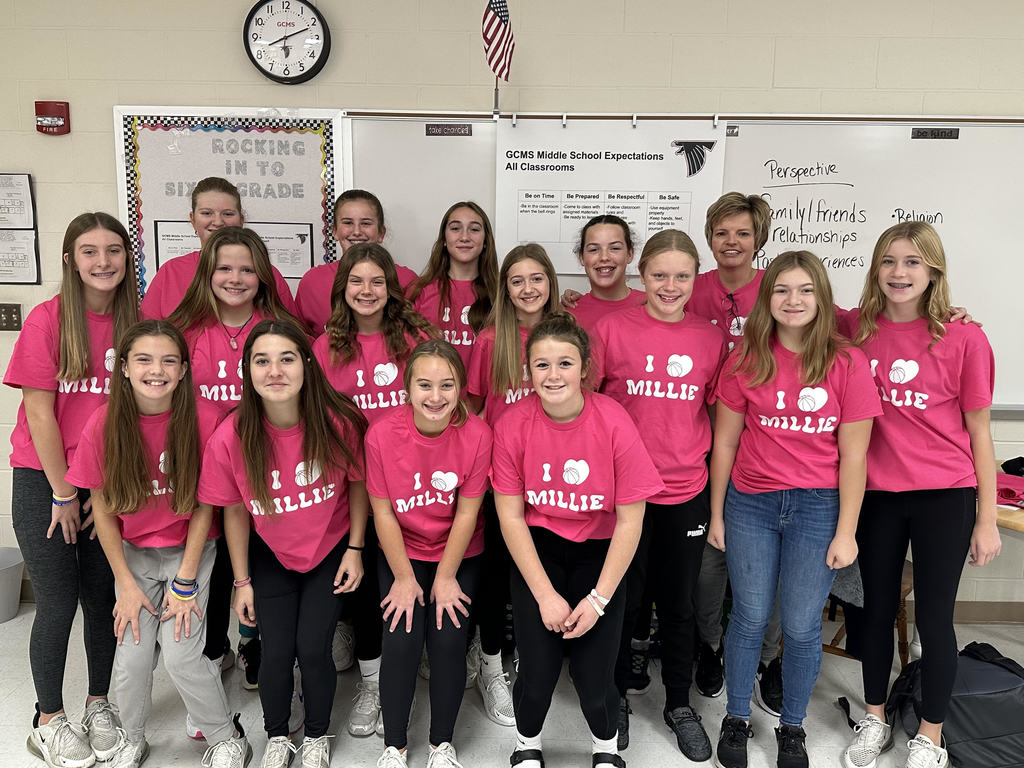 GCMS Families, The cool weather this morning is a clear indication that winter is looming. I want to remind everyone that GCMS will once again use remote learning for "snow days" in 2022-2023. This will look different for every age and curricular area and we will do our best to allow for a balance of continuation of learning and embracing the challenges / joys of a snow day. Should a snow day occur, notifications will be posted on GCMS Social Media platforms and sent via text message. We want to remind you to be extremely cautious when navigating around the school buildings and school buses. If a bus is stopped please do not pass it on the road or in our parking lots! Finally, what an amazing day honoring a great showing of veterans for our annual Veterans Day ceremony at GCMS High School. Our students showed great respect and appreciation for those who provide(d) us with our freedoms and liberties. Special shout out to our student performers and speakers. It is a great day to be a Falcon! Sincerely, Mr. Darnell

11 GCMS Choir students were selected by audition to perform in the ILMEA District 3 Honors Choirs! They will rehearse and perform on Saturday 11/12 in Centennial Chapel at Olivet Nazarene University at 2:00 pm (Junior ensembles) and 4:30 pm (Senior ensembles).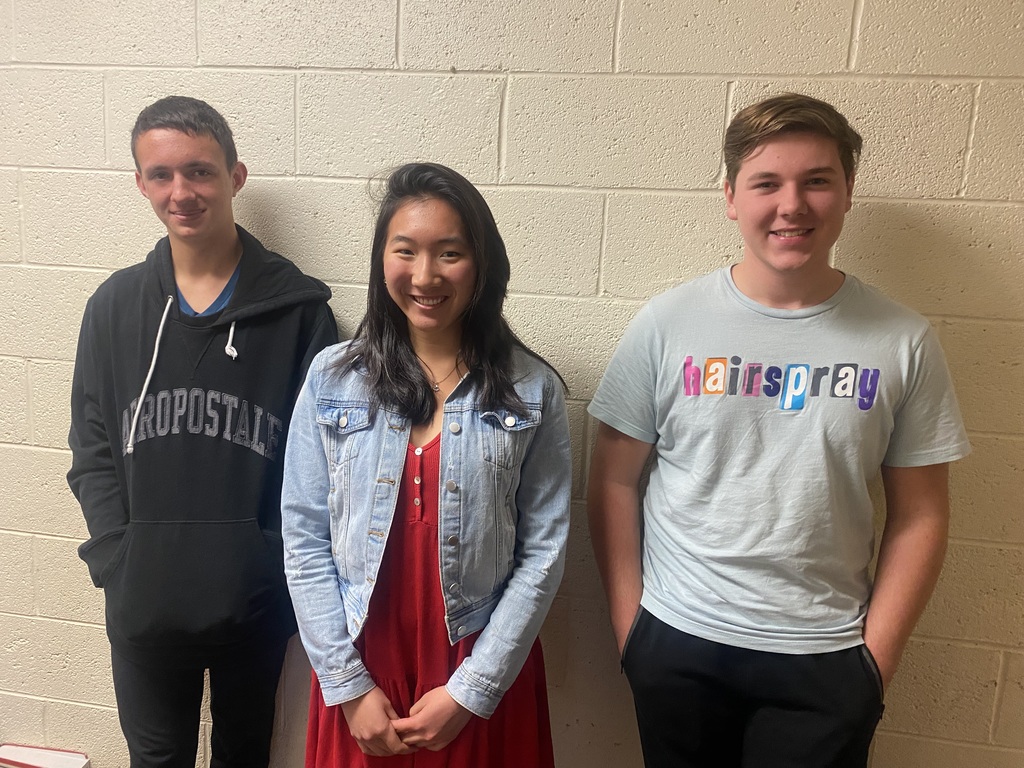 Tonight's 7/8 Boys Basketball games at Watseka will be played at Glenn Raymond Middle School (101 W. Mulberry). The 7th Grade game begins at 5:30 with the 8th Grade to follow. Go Falcons!

Our Veterans Day Assembly begins at 9:00am tomorrow, Fri Nov 11. Local veterans and community members are invited to attend. A livestream will also be available at
https://youtu.be/WYTSH2mCjSc
ES Students wear Blue MS Students wear Red HS Students wear White
Good afternoon! Just a reminder that tomorrow is the last day for our coin drive for the Gibson Area Food Pantry. The class that donates the most gets to ride in a bus for the lighted Christmas Parade and the grade level who donates the most gets a pizza party. Thank you in advance for your help for this great cause! Also, we are asking the elementary school to wear blue for our Veterans Day assembly tomorrow. Thanks! Mr. Kean


We have an update for the Millie's Militia Fundraiser. Please sign up for donations using our form at
https://forms.gle/QuER4cf5AJ75ieDA8
All donations should be in by Noon on Monday, Nov 14. Thank you for your support!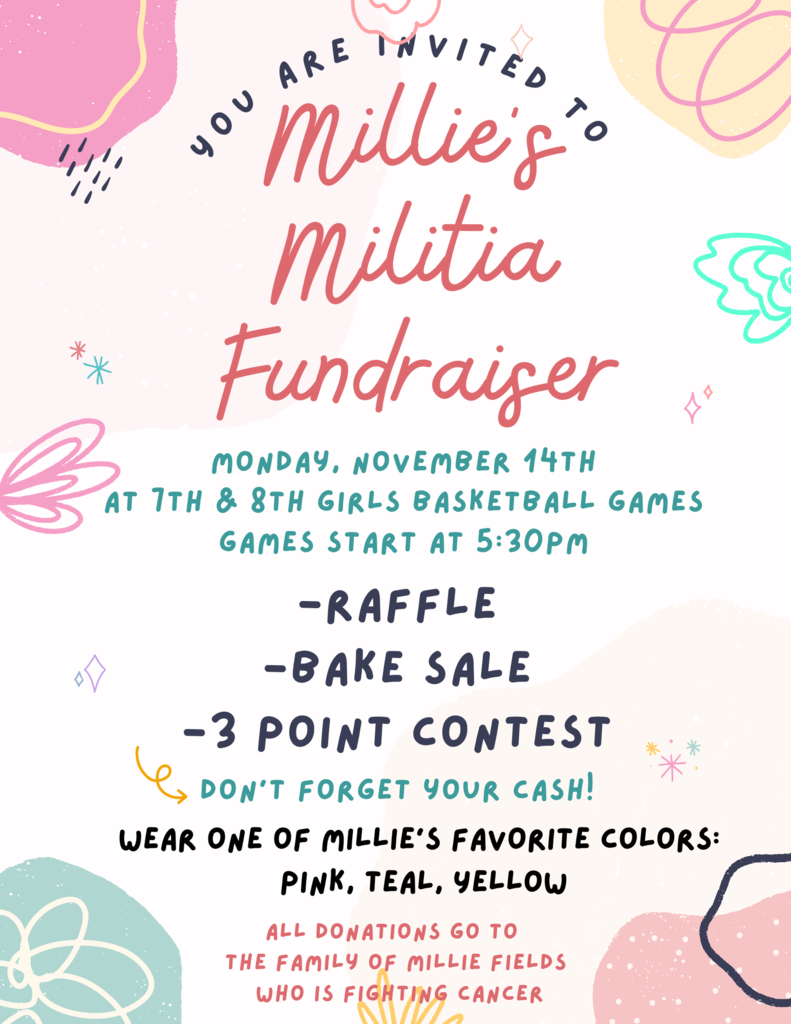 The Middle School Red Crush student section is hosting a Fundraiser for the Fields family on Monday, November 14th. The GCMS Middle School girls basketball teams will take on the PBL Panthers basketball team. We ask both communities to come together to help support this family as young Millie fights her battle against Rhabdomyosarcoma. Along with having items for purchase from Milllie's Militia, we are hosting a bake sale. If you are able to help us by donating baked goods, please use the following FORM to sign up. Goods need to be at the Middle School by Noon on Monday, November 14th. We ask for items to be individually wrapped, or grouped in small collections when possible for easy purchase.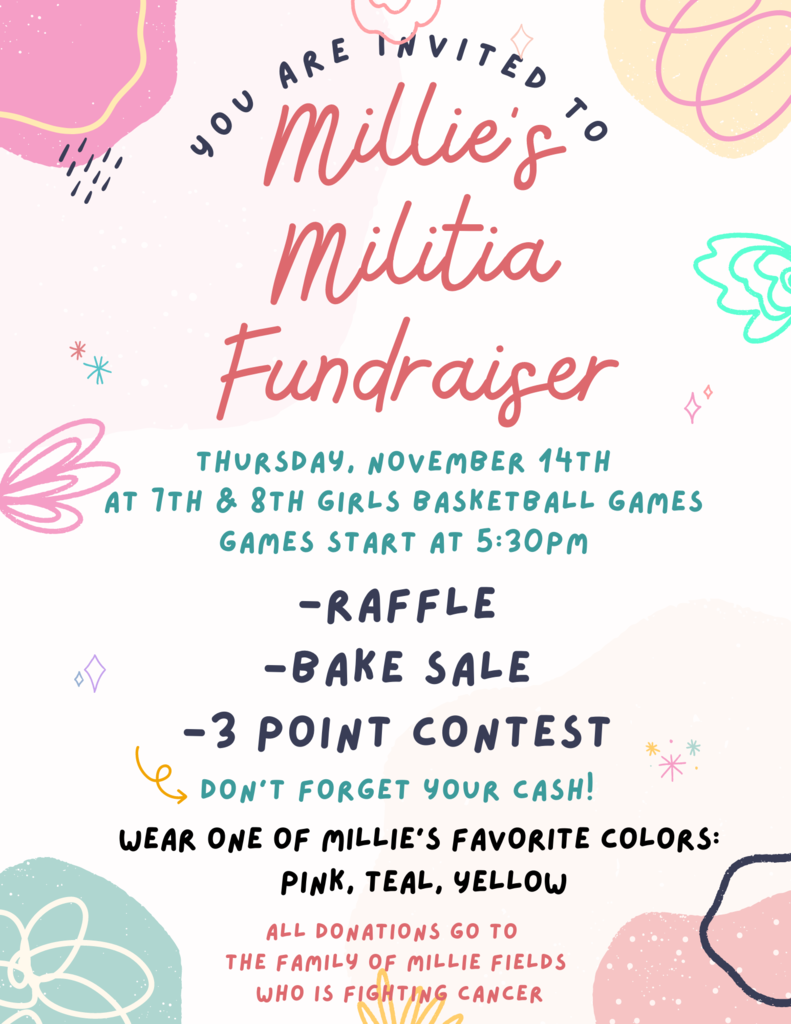 Due to circumstances with Blue Ridge, the MS Boys basketball games with them for Tue. 11/8 have been cancelled. The boys will have an optional workout from 11-12:30 at the MS on Tuesday. The boys will return to action Thursday at Watseka.

There will be a MS Wrestling parent meeting for all who can attend on Wed. 11/9 at 5:30 in the MS Cafeteria. Coach Brucker will go over some pre-season info and answer any questions that parents might have. Please contact Coach Brucker at 217-781-2307 or Mark Berry at the Middle School with any questions.

Congratulations to our Fall 2022 Inductees to the GCMS High School National Honor Society!