Good afternoon, Below is a link for the Miles of Smiles Dental Program provided through our school district. If you would like your student(s) to participate in the program, please fill out the form and return it to the middle school office by Friday, January 21.
https://drive.google.com/file/d/1hcDFwTQ13-qgIu_qz-JA7XYSAzoNFbOa/view?usp=sharing
Please contact the middle school office with any questions. Thank you, Mr. Bielfeldt

GCMS Families, Mother nature dropped some ice across our district on Saturday and we still have many roads that have ice and are slow moving. Fortunately we do not have snow pack or visibility issues. We will be in school tomorrow but please be prepared for delays in bus routes as they take their time to ensure safe travel. All morning activities are cancelled for Monday, January 10th to avoid students driving in the dark. If your student will not be riding the bus please call the bus garage and leave a message this evening or send a remind message. The bus garage number is 217-784-5800. Please use caution in transition the next couple of days both to and from school and around the school loading zones. Students who will be absent should be called into your children's respective school offices. Have a great week! -Mr. Darnell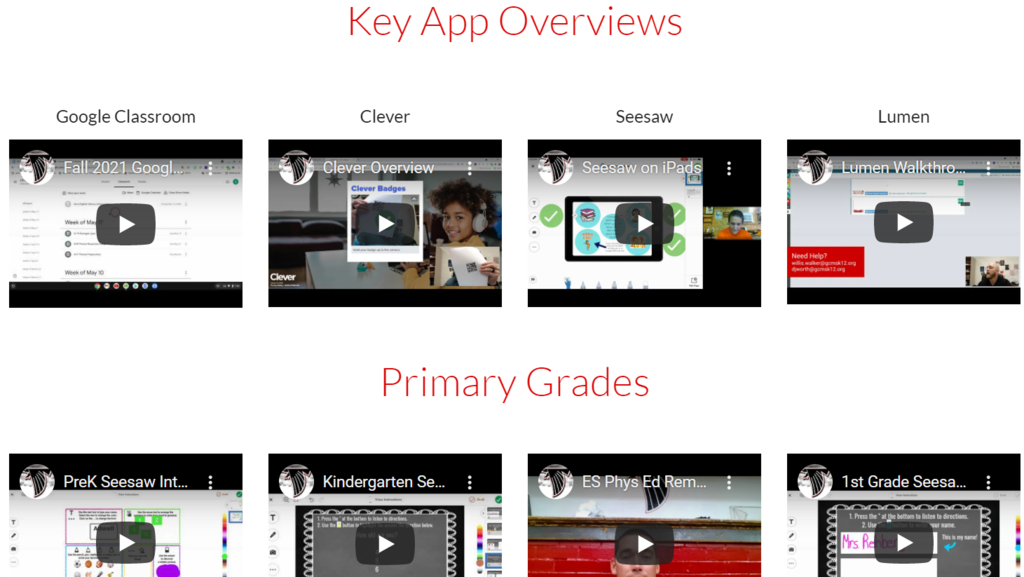 GCMS Families, I know the speculation has kicked up already about having school tomorrow due to cold weather. We WILL be in session tomorrow. Projections are for wind chills well below zero so bundle up and exercise caution as you transition to school. The buildings are warm and we look forward to wrapping up a great first week of second semester. As always, if your children will not be present at school please call your respective school offices to report their absence. Stay healthy, safe, and warm! Sincerely, Mr. Darnell

Wednesday January 5th is a full day of attendance and and not a 1/2 day like most of our first Wednesdays of the month.

GCMS Families, Today we came back with 12 adults and 132 students absent from school. These absences are NOT all Covid related, but we wanted to make everyone aware of our current circumstance. 132 students represents 13% of our population which means 87% are present for in person learning. Historically this time of year we have between 8-15% absence rates due to winter illnesses so we are not far from the norm. It is essential that students and families, when health appropriate, stay actively engaged with their teachers and keep up with their school work both at school and when absent as much as possible. We understand that circumstances vary from home to home and with the age and ability differences, but keeping up is always better than catching up when possible. Our efforts will continue to maximize our resources to stay open as we all try to navigate the challenges before us! Thanks for your help! Sincerely, Mr. Darnell
Starting this semester, all Illinois students may take up to 5 mental or behavioral health days for which the child need not provide a medical note. The student will be given the opportunity to make up any school work missed during that absence. The mental and emotional health of our students is of the utmost importance to the GCMS District. We strive to teach our students that recognizing when you are struggling mentally, and knowing where to go for help, is as important as knowing how to handle physical illness. If a student takes more than one mental or behavioral health day, a social worker from the schools will contact the student to follow-up. For more information about mental health days and signs to look out for in your child, see this article from SIU School of Medicine:
https://www.siumed.org/node/162776
.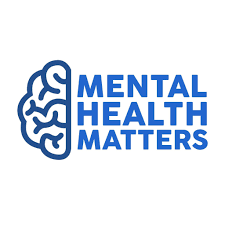 See the attached flyer for local COVID-19 testing options from Ford County Public Health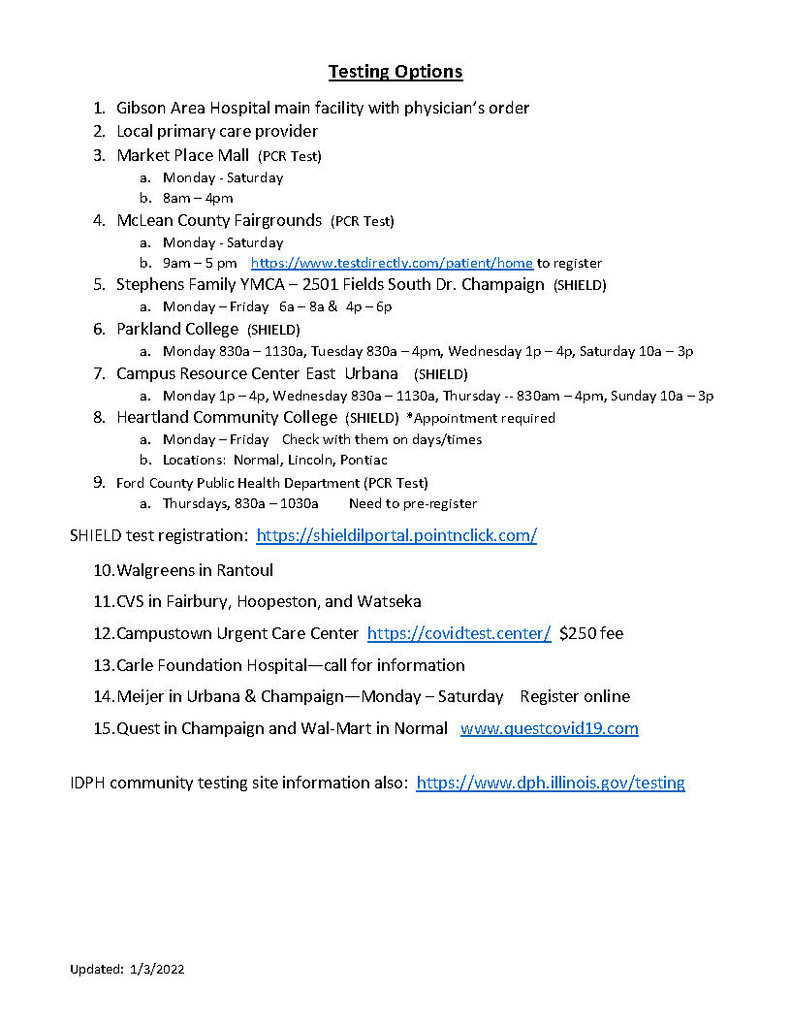 GCMS Families, We are all very excited to get students back to school tomorrow! As we enter 2022 we want everyone to continue to partner with us to meet our primary goal which is in person learning for our kids. Covid has certainly ramped up and we are experiencing larger case numbers in both students and staff. We will remain open for in person learning as long as we can do so with proper staffing, transportation, food service, and safety. We recognize the burdens and inconveniences that Covid has placed on everyone and are trying to minimize those burdens by serving our healthy kids and managing each circumstance to the best of our ability. We will continue to follow IDPH and FCPH guidance as we anxiously await updated information from both entities in response to recent CDC changes. Please be patient as we navigate these changes and continue to advocate for clarity, consistency, and application of expectations in our schools and for our kids. We have all faced frustration and adversity throughout the past two years and we will continue to navigate all of these frustrations to do the best we can to serve the kids and community of GCMS. Please stay tuned for updates and understand that the circumstances we face right now are very fluid. Falcon Proud- Mr. Darnell

GCMS Families, GCMS is planning to return to full in person classes on January 4th as planned. January 3rd is a teacher in service day and all offices will be open for communications on absences for January 4th. At this time we will return under the same practices for Covid exposures and quarantine timelines. We are aware that on Monday the CDC issued new guidance and have communicated with Ford County Public Health to determine if we can reduce quarantine timelines as we enter the new year. Our goal has always been to keep students in school and activity as much as possible and we will adjust our practice should IDPH and FCPH adopt the adjustments. We appreciate your attention. Have a safe, happy, and healthy New Year! Sincerely, Mr. Darnell

Middle School students donated candy and student made lap blankets to residents at GAH Annex today. Our kids are awesome!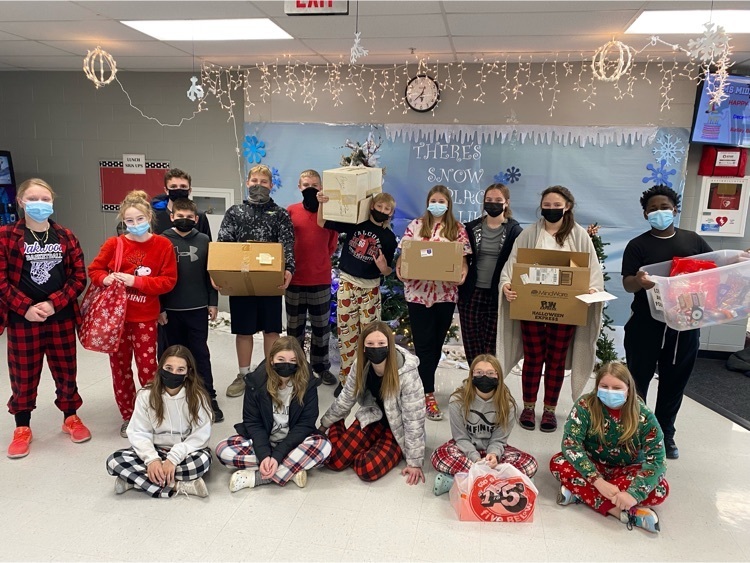 Congratulations to our Middle School December Students of the Month! 6th Grade - Brecke Barnard 7th Grade - Payton Alley 8th Grade - Lizzy Goodin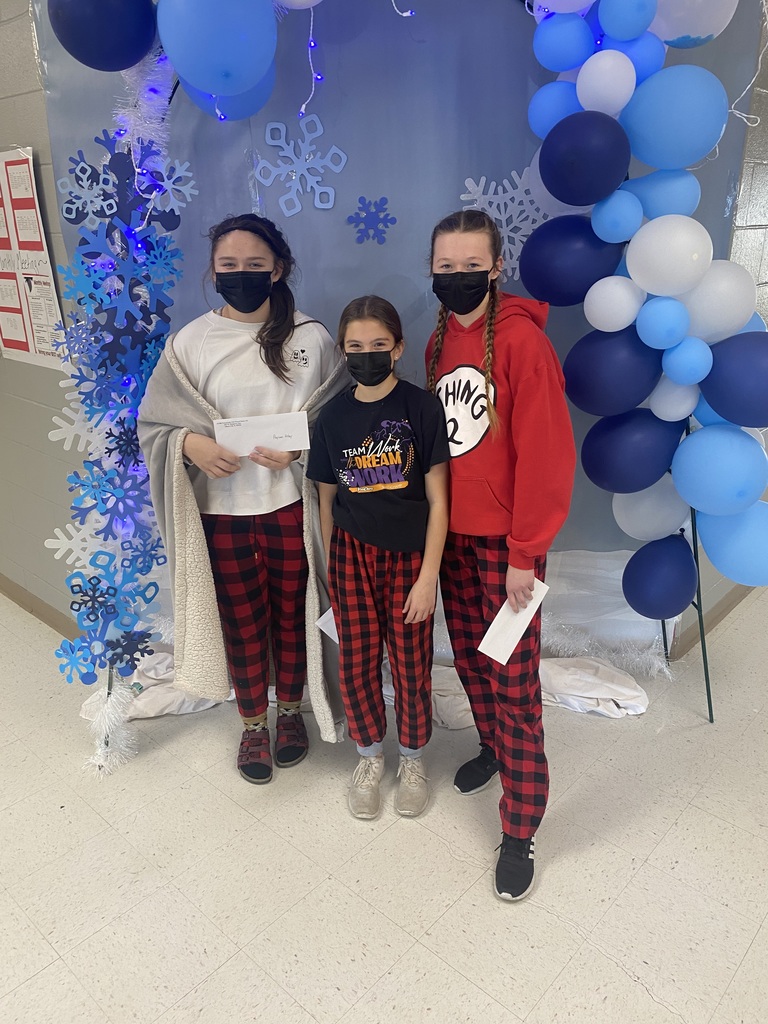 The lunch menu lists, "Cooks Choice" for tomorrow (Dec. 22) @ the elementary school. Here is what that will be: Oven Roasted Chicken Buttered Carrots Dinner Roll and Fruit cup Also, a reminder that tomorrow is a 2:20 dismissal. I hope you all have a Merry Christmas! Mr. Kean


A quick reminder that the MS will be having dress up days next week. Enjoy our last few days before break!

Congratulations to our Middle School Basketball Award Winners! 7th Grade Team Most Improved - Brecke Barnard and Bailey Bunting All Out - Kate McCall 8th Grade Team Most Improved - Lily Sizemore Ms. Practice - Bailey Grider Falcon Pride - Hadley Doman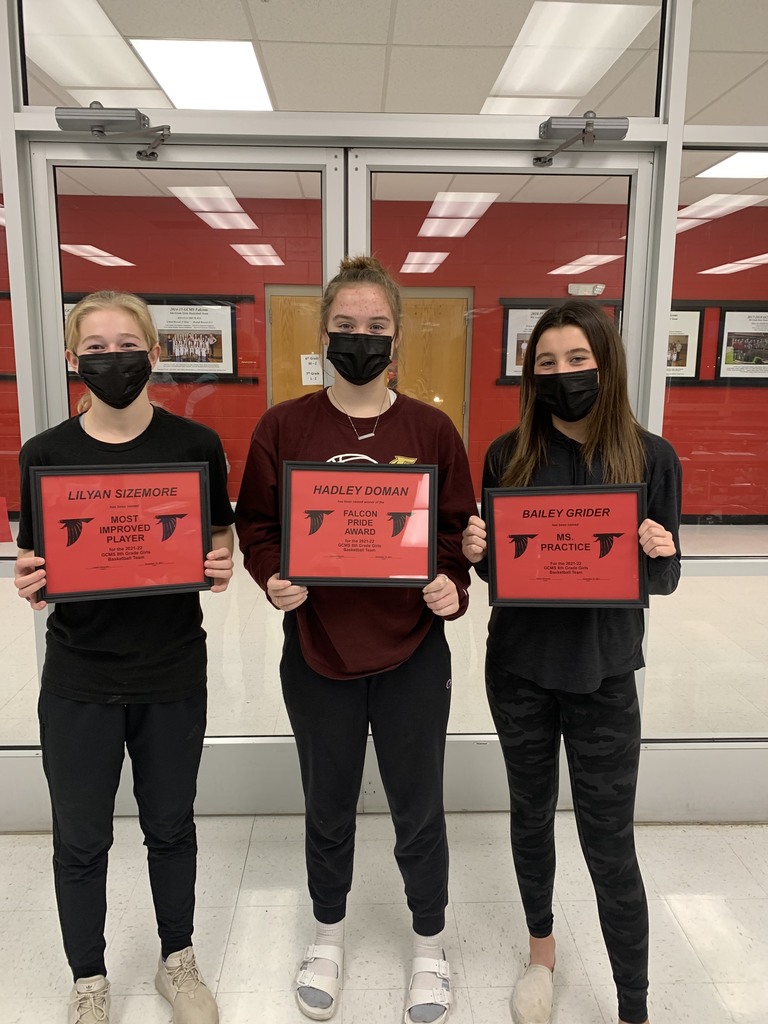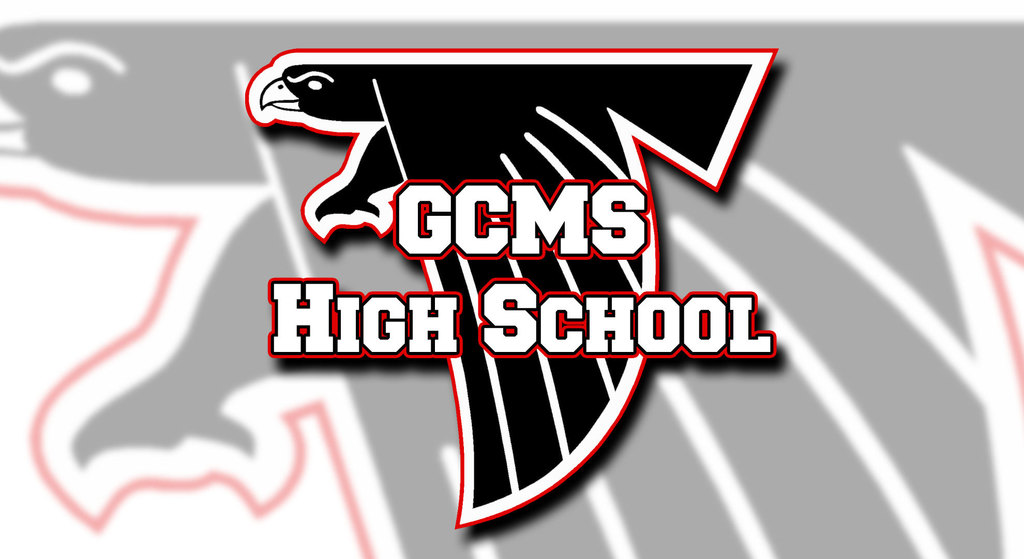 Due to facility issues at Pontiac, Monday's Middle School Wrestling meet at Pontiac has been cancelled. The GCMS Middle School Wrestling team will now open their season Tuesday, Dec. 14 with a home meet at the Elementary School vs. Champaign. The match will start at 5:30PM.

Join us this Sunday for our 2021 Winter Concert! Featured groups include Middle School Choir, High School Concert and Chamber Choir, 5th Grade Band, Middle School Band and High School Jazz and Symphonic Band.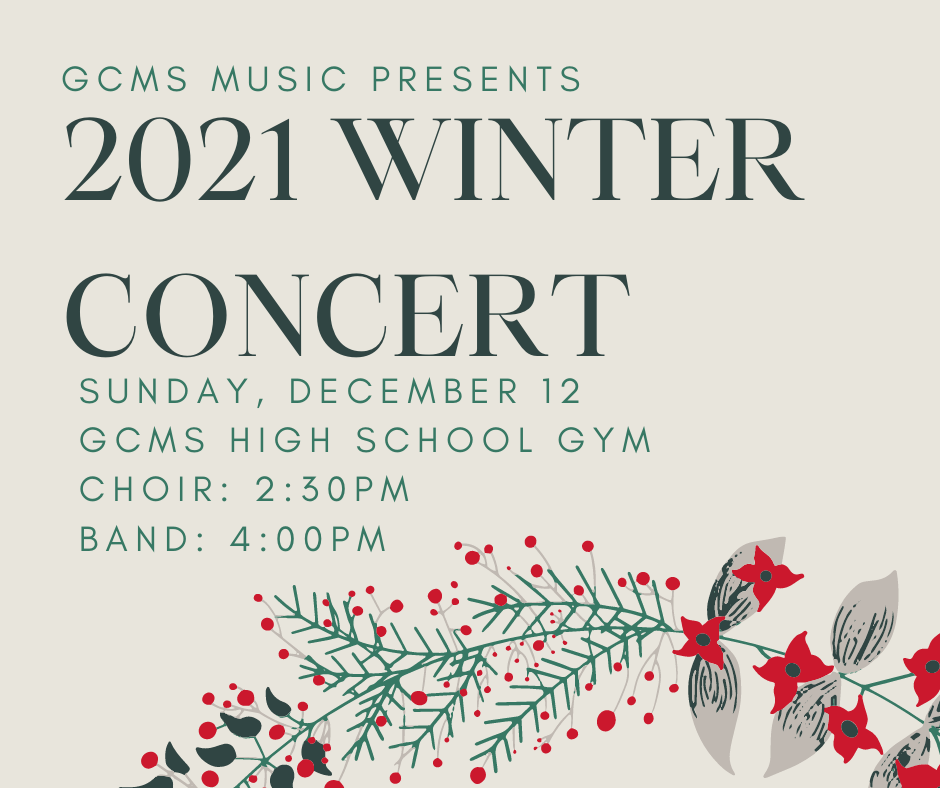 GCMS High School is pleased to announce that five students from the graduating class of 2022 have been designated as Illinois State Scholars. The Illinois Student Assistance Commission presents this important recognition of academic achievement to exceptional Illinois high school students annually. This year's GCMS HS Illinois State Scholars are Sadie Christensen, Emily Hood, Braylen Kean, Lucy Keigher, and Aiden Phillips. We are very proud of you!