Families, Please be aware that demolition of our storm damaged dugouts on the Middle School grounds will begin today and be completed by the end of this week. Please stay clear of these spaces. Thanks for your cooperation. - Mr. Darnell

Our Middle School Book Fair is next week! The fair will be open late Wed & Thurs so you can stop by during PT conferences. You can also shop online or set up an eWallet for your student to use at
https://www.scholastic.com/bf/gcmsmiddleschool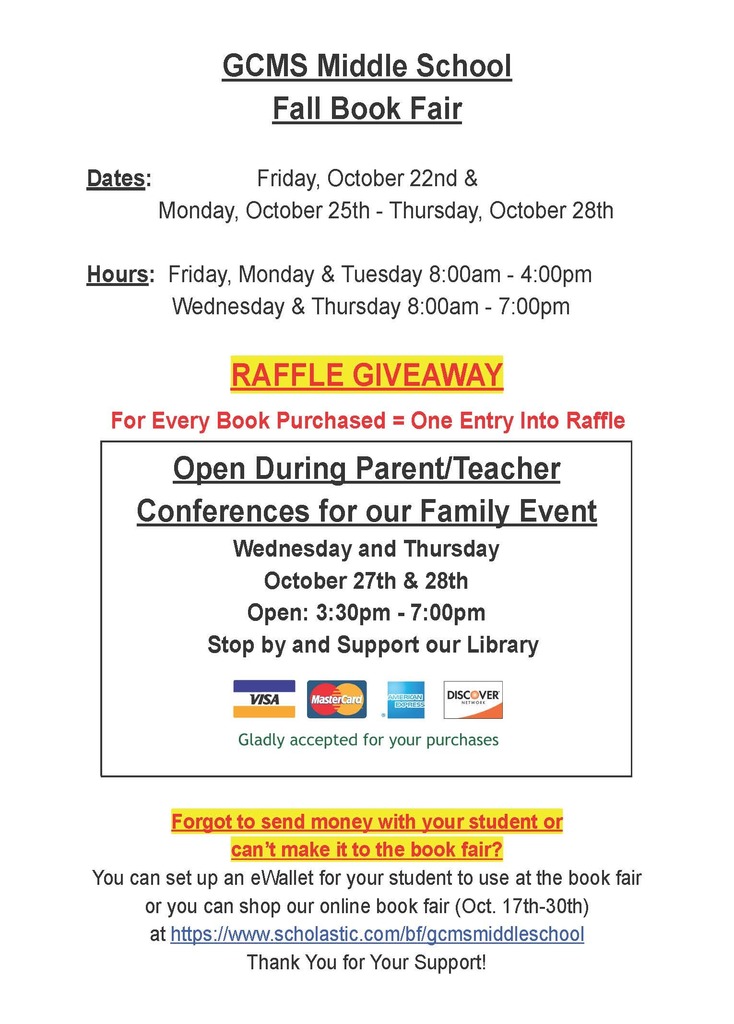 We are proud to announce our 2021 GCMS High School Variety Show! This year we shift venues to the Gibson City Bible Church, masks are required. The show is Fri Nov 5, tickets are $5 and will go on sale next week first to students then to the general public. Tickets are limited!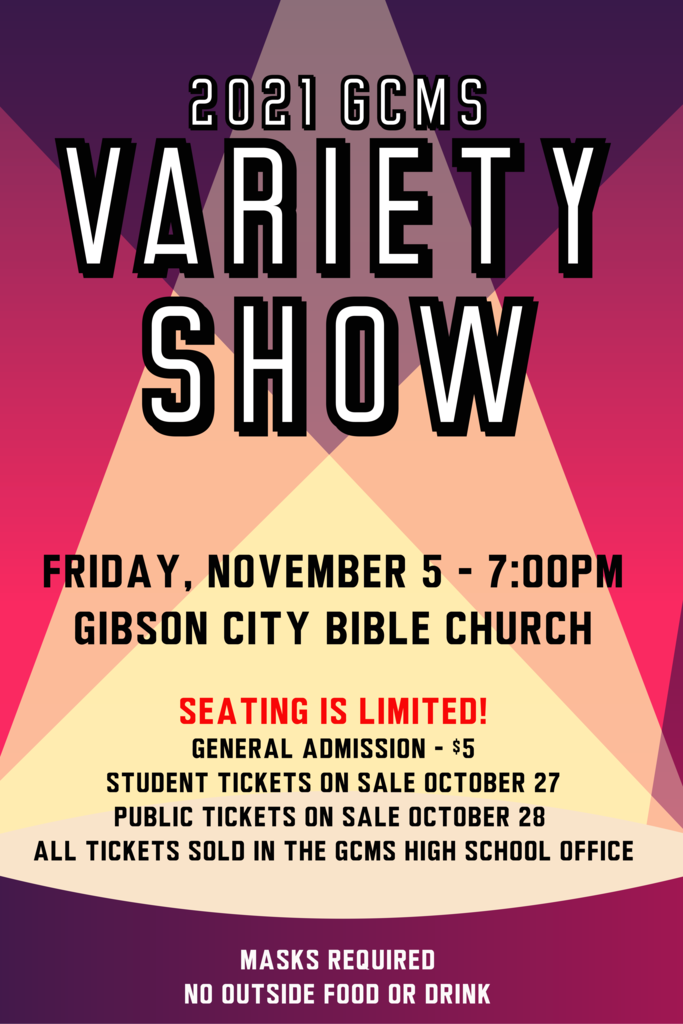 GCMS Families, Couple of announcements: 1. In case you missed it we had 4 dogs that ventured up to the middle school from a couple of blocks away this morning during drop off. The dogs were friendly and no issued occurred. Thanks to GC PD's Roy Acree and Carrie DeWall for jumping in to help wrangle the dogs in to the police cruiser. They have been safely returned and the issue is being addressed. 2. The Track at the athletic complex will be closed to all visitors from today, October 19 through Friday morning, October 22 for painting. Please do not use this space. 3. We are seeing increased train traffic due to harvest season so please plan accordingly. Also, please encourage your children to use extreme caution when trains are present if walking to or from school. Happy Fall! Go Falcons! -Mr. Darnell

Join us this Friday for Falcon Family Pre-Game Celebration!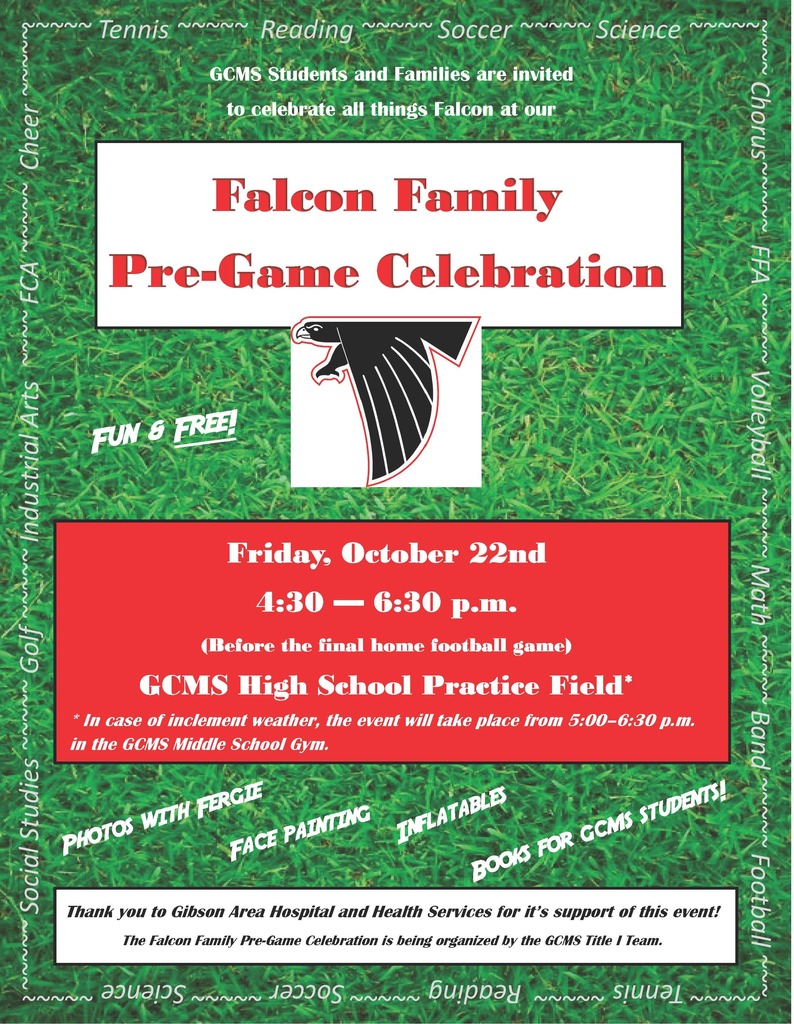 Middle School Parents, Parent/Teacher Conferences are October 27 and 28. Please contact the middle school office to schedule a conference with your students' teachers. You can sign up for in person or for a phone/video meeting. We look forward to seeing you! Mr. Bielfeldt


Tonight's Middle School Girls Basketball game @ Iroquois West will be played at the Iroquois West Middle School in Onarga. 303 N. Evergreen St. Onarga, IL 60955 Go Falcons!

GCMS Middle School is looking for staff shout outs! Has a Middle School staff member done something awesome, made you or your child's day, or you just want to give them a little encouragement? Use this form to SHOUT OUT the positive vibes!
https://forms.gle/J8FmGh4EZ5fKxvJA9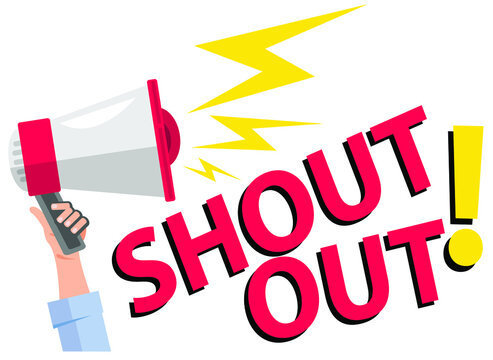 The High School volleyball match has been canceled for tonight. Intramural volleyball girls should be picked up tonight at 5pm. We will attend the volleyball match this Thursday instead. Thank you!

Mr. Renchen's 6th gr Music Appreciation class had the opportunity to video chat with local music composer Dr. Roy Magnuson. The students are working on creating their own music compositions and gathered insight from Dr. Magnuson on how to go about the process and how to refine their creations. Dr. Magnuson teaches music theory and composition at Illinois State University and is a great local resource with whom the students had fun collaborating!

Tonight's high school volleyball game has been cancelled.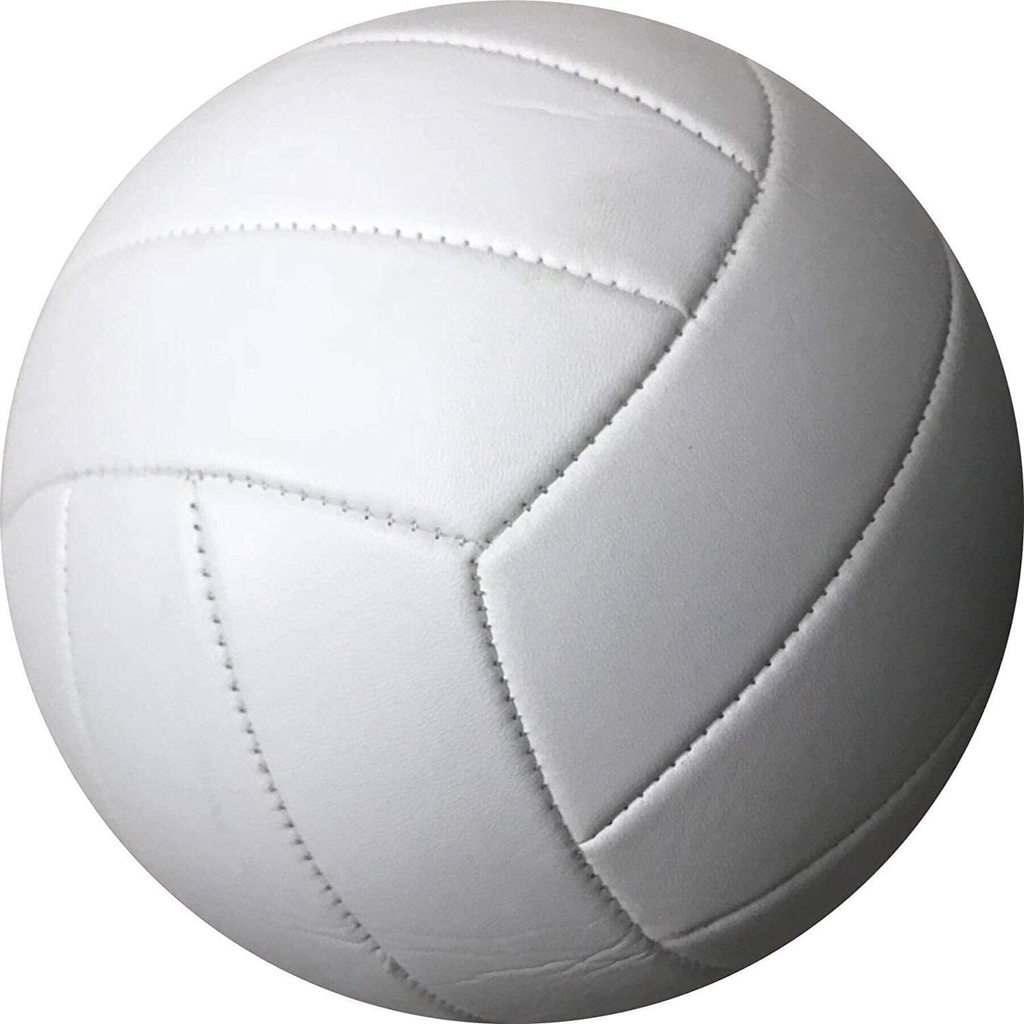 Tonight's Middle School Girls Basketball game against El Paso-Gridley will be played in Gridley. The address of the school is: 403 McLean St Gridley, IL 61744 Go Falcons!

NEXT TUES Oct.12th: 6:00PM FISHER-GCMS VS. ARGENTA-OREANA WE ARE HOSTING REGIONALS NEXT WEEK!!! SPREAD THE WORD! In Fisher at the Fairgrounds Fri., Oct. 8 Match 1 at 4:15 pm: Danville (Schlarman) at Farmer City AT Blue Ridge) Tue. Oct. 12 Match 2 at 4:00 pm: Urbana (University) vs. Winner Match 1 Match 3 at 6:00 pm: Fisher-GCMS vs. Argenta-Oreana Fri. Oct. 15 Match 4 at 4:30 pm: Winner Match 2 vs. Winner Match 3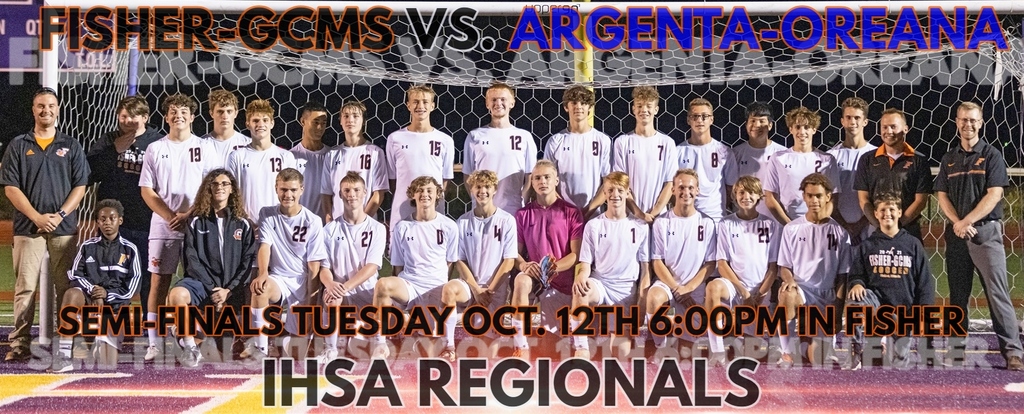 Check out what is going on with the Middle School Monthly Meeting Groups!

Families, There is still some confusion over school days for Friday and Monday. We are full time in person both Friday, October 8th and Monday, October 11th. The original calendar had the 8th as a remote planning day which was removed due to state regulation change. Sorry for the calendar confusion this year with both construction and state allowance changes it has not been as clear as it should be. Thank you for your understanding. Sincerely, Mr. Darnell
Due to the weather, the 1st grade field trip to Radar Farms that was supposed to take place tomorrow has been rescheduled for this Friday, Oct. 8th. Tomorrow will be a normal day for 1st grade. Please bring a sack lunch, drink and jacket on FRIDAY. Thanks!

Tonight's (10/6) GCMS-Fisher vs Blue Ridge Soccer game has been cancelled.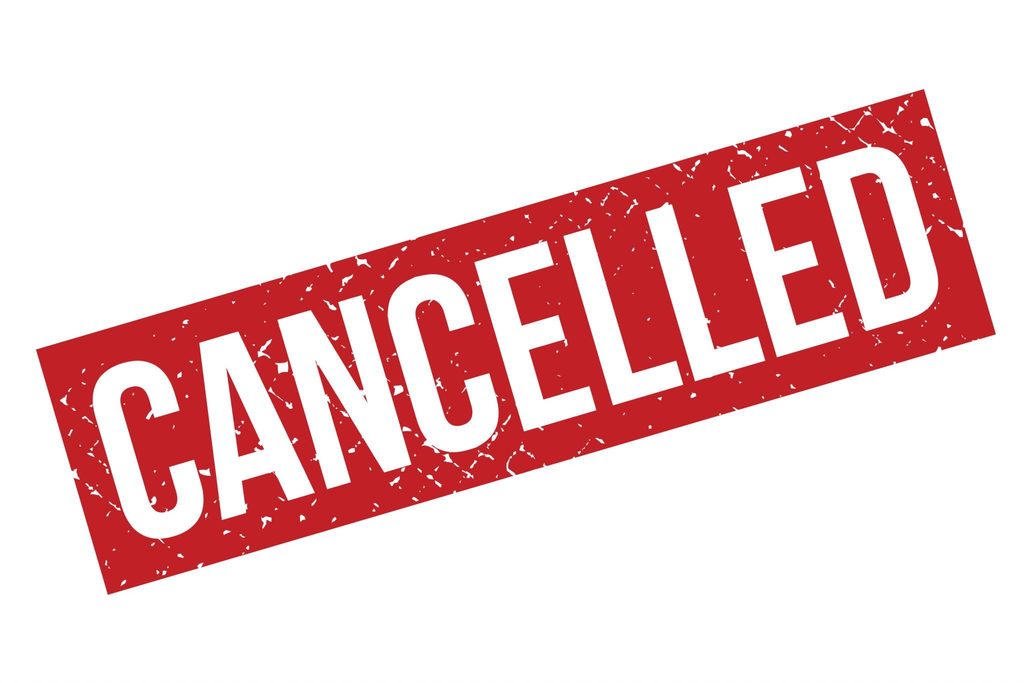 GCMS Families, Final reminder today is an 11:30 dismissal! Also, I hope any, and all, who have questions about the why and how of school governance take the time to come to the open question and answer period tonight at the Middle School Starting at 6:30 p.m. Falcon Proud! Mr. Darnell