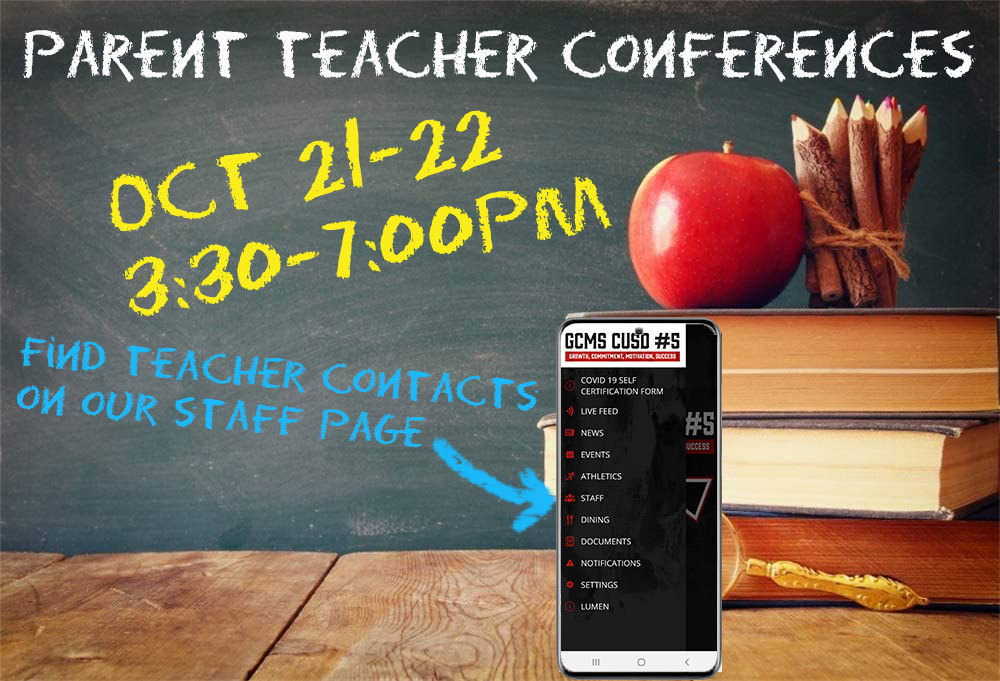 Parent Teacher Conferences
Jeremy Darnell
Monday, September 28, 2020
GCMS Families,
The opportunity for our annual Parent / Teacher Conferences is upon us and like all things in 2020 they are going to look a little different. The opportunity to formally collaborate with families to best serve our students is one that we do not want to miss. Please take some time to read the changes we have made to the 2020 Parent / Teacher Conferences below.
Parent / Teacher Conferences will occur on Wednesday, October 21, and Thursday October 22 from 3:30 p.m. to 7:00 p.m.
We are encouraging all parents / guardians to reach out to the students teacher(s) in order to set up appointments to meet either by phone or virtually. This year we will NOT be having in person conferences. The attached graphic shows the access point on our district application where you can access all staff email addresses. If you cannot access the application you can call your child's respective schools to set up a conference.
We appreciate everyone's understanding and flexibility in this event in order to maintain this opportunity for all involved in the safest manner possible. Thank you for your support and attention.
Sincerely,
Jeremy Darnell